Outside my window… things are a luminescent green in contrast to the dull, grey sky.
I am thinking…that I shouldn't be cold in July – yet I am. I may have to close the windows, much to my chagrin.
I am thankful…that Ezra is turning 8 tomorrow, which means we will be going to get RAW cupcakes at the The Flying Cupcake today. They aren't open on the 4th of July.
In the kitchen…I am fermenting 1 gallon of countertop yogurt. And a bean and egg vanilla cake will soon send warm, comforting smells throughout the house announcing the arrival of an 8 year old.
I am wearing… my pajamas . . . a $6 tank-top from Target and Walmart workout shorts – that are ancient. Both of which I wouldn't wear in public.
I am creating…strife within my home and I need to nip it in the bud. It dawned on me this morning, as I lay under the covers . . . willing my legs to sneak out and land on the floor. Changing habits and my heart is not an easy task – but some pruning is in order. Just like the lilac bushes at the foot of our driveway.
I am going…to commit to the BeachBody PiYo workout. One of those habits that must happen. I am going to refrain from reviewing any more vacation reading . . . and even cancel those emails that inform me of such relaxing opportunities. I am going to pick some READY lettuce from the garden. I am going to wash my hair today – rather put some baking soda and vinegar in it. I've gone au natural – no shampoo.
I am wondering… how that infrared Sauna really works.
I am reading… Lord, I Want to Know You by Kay Arthur, The Four Year Career, and the Essential Oil Desk Reference Guide.
I am hoping… to become better organized . . . to have a day with little fighting amongst the kids . . . to de-clutter more . . . to enjoy my gluten free cupcake and to encourage those around me more.
I am looking forward to… celebrating Ezra's birth . . . going on vacation . . . and having a date with The Engineer this weekend.
I am learning . . . oh, I have learned so much recently. It's a little hard to even process.
Around the house… we are clean and yet messy.
I am pondering… if I am too busy and how to slow down. The summer still hasn't been what I had hoped . . . other than there has been more play time.
A favorite quote for today… "Today is your last time . . ." this phrase will be spoken all day long to Ezra as he finishes up his last day to be 7. (Thank you MIL.)
One of my favorite things… sleep.
A few plans for the rest of the week: celebrating Ezra's birthday (quite the theme, right?), go on a Spy Mission at our local Barnes and Nobles, church, attend an essential oils class tonight (of which I still need to ask the Engineer if I can go)
A peek into my day…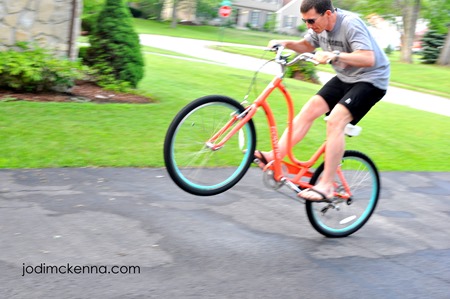 Yes, apparently my Electra Townie can get some height.
Linking up with the Simple Woman's Daybook.