Using Essential Oils in a Spray Bottle
Oct 11, 2012
This post may contain affiliate links. Additionally, remember that I am not a doctor and any health statements must be verified by your doctor. Read my full disclosure policy
here
.
When I went crunchy, I had to give up enticing the Engineer with what I thought was an intoxicating aroma called expensive department store perfume, a scent that falsely led me to believe that all romance should be hot and steamy.
Not that we needed any help.
Did I just write that?
I wore White Diamonds perfume for years. 
And then I stopped.  I met organic food and learned that fragrances can cause cancer and asthma.
See ya, wouldn't want to be ya!
My fragrance was my arm pit. For a long time.  Poor poor Engineer.
I realized, one day while at church, that I do "wear" a perfume.  Several, in fact.  People have mentioned that they can smell me. 
Gulp.
I wear essential oils. 
While most of my oils are applied "neat," I occasionally make up spray bottles with Thieves Oil to cleanse the air,  bug repellant made with Purification, and White Angelica scented water as a touch of femininity.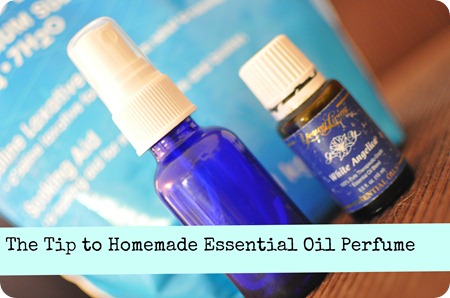 One Problem
Essential oils and spray bottles do not get along. 
Essential oils clog the spray mechanism of the bottle. 
Which leads to frustration.  And then you'll have to apply another oil to deal with that issue. 
The Solution
Before you make your "perfume" or air freshener spray, drop a pinch of Epsom Salt into the bottom of the bottle.  With precision, have the essential oil liquid fall onto the pinch of salt.  Add filtered water.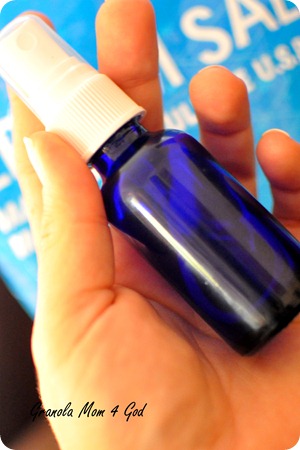 Why?
Remember, oil and water don't mix.  If you place a drop of oil in water, the oil will float and fail to disperse.
BUT if you place the oil on the Epsom Salt, the oil will adhere to the salt.  When the salt dissolves in the water, the oils will be dispersed as the salt dissolves.  By having the oil divided up into smaller "particles, if you will, your spray bottle does not get clogged.
And that, I suppose is a very layman way to tell you.  The Engineer is at work, so I am not able to use fancy words to clearly explain the reason behind the madness.
What is White Angelica?
White Angelica is part of my Happy Day routine.  It contains the oils bergamot, melissa, geranium, ylang ylang, rose, myrrh, spruce, sandalwood, and hyssop. 
White Angelica is an interesting oil.  Very interesting.  An oil that I would prefer to have a one on one conversation with you about.
How is that for being vague?  Did I make you curious?